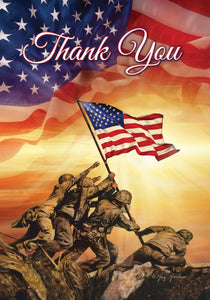 A respectful tribute to the men and women in our military.

New to The Patriot Post Shop, the Thank You Troops garden flag - Iwo Jima combines the images of our beautiful flag and that historic Iwo Jima struggle to erect Old Glory .
Printed right here, in Delaware, in the USA! This flag is printed using a fade resistant ink, on luxurious velvety soft heavyweight fabric, creating a beautiful drape showcasing its stunning design which is readable from both sides!