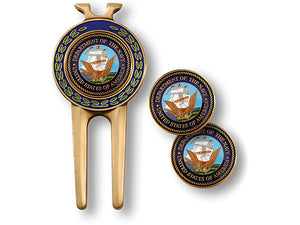 The world's most feared maritime force, the invincible armada of the U.S. Navy is prepared at all times to defend the cause of freedom throughout the world.

Commanding a massive fleet comprised of the most technologically advanced surface ships, submarines, and aircraft, Navy sailors courageously lead America's Armed Forces into combat, demonstrating flawless precision and potent proficiency as they confidently carry out their mission.

Serving as a vital component of America's military arsenal for more than 200 years, the U.S. Navy has earned a reputation for unparalleled excellence and has played a crucial role in keeping America safe.

After you've fired your ball with more precision than the others in your foursome, this divot tool will complete your mission. Mark your ball's position with the magnetic ball marker attached magnetically to the tool; then, after you've sunk your putt, use the divot tool to clean up your marks while your opponent tries to outshoot you. This specially designed set contains a brass divot tool with three ball markers featuring a detailed rendering of the Navy's historic sea, ship, eagle, and anchor seal.

Packaged in a sturdy hard plastic package, this is a superb gift for retired or active Naval personnel, certain to grab attention and serve as a source of pride for the owner for years to come.