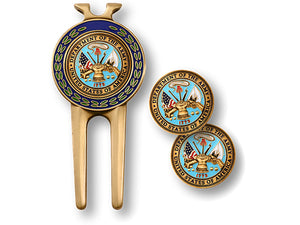 Founded in 1775 by order of the Continental Congress, the U.S. Army has served as the backbone of America's military arsenal for more than 200 years.

Since its inception, the Army has consistently confronted and defeated the forces of tyranny throughout the world, gaining a reputation as the world's ultimate defender of liberty. Composed of tough-minded and skilled warriors willing to answer the call to arms at moment's notice, the U.S. Army stands prepared at all times to bear any burden in the pursuit of victory. With overwhelming force and unyielding resolve, the soldiers of the U.S. Army carry the cause of freedom to the far reaches of the globe, pursuing America's enemies with trademark tenacity.

After you've taken the green ahead of the others in your foursome, this divot tool will complete your mission. Mark your ball's position with the magnetic ball marker attached magnetically to the tool; then, after you've sunk your putt, use the divot tool to clean up your marks while your opponent tries to outshoot you. This specially designed set contains a brass divot tool with three ball markers featuring a detailed rendering of the Army's seal.

Packaged in a sturdy hard plastic package, this is a superb gift for retired or active Army personnel, certain to grab attention and serve as a source of pride for the owner for years to come.