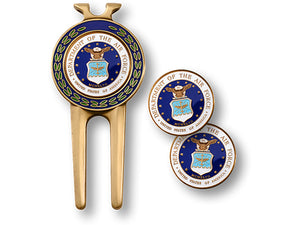 Originally founded in 1914 as the aviation division of the Army Signal Corps, the modern U.S. Air Force was founded in 1947.

By expanding the frontiers of aerospace technology, the men and women who serve this elite force have greatly enhanced America's capacity to engage and defeat its enemies throughout the world.

After you've hit your ball higher, farther, and faster than the others in your foursome, this divot tool will complete your mission. Mark your ball's position with the magnetic ball marker attached magnetically to the tool; then, after you've sunk your putt, use the divot tool to clean up your marks while your opponent tries to outshoot you.

This specially designed set contains a brass divot tool with three Air Force logo ball markers featuring a detailed rendering of the classic Air Force crest and shield -- the heraldic lightning bolt and bald eagle, both symbols of America's air-striking power.

Packaged in a sturdy hard plastic package, this is a superb gift for retired or active Air Force personnel, certain to grab attention and serve as a source of pride for the owner for years to come.