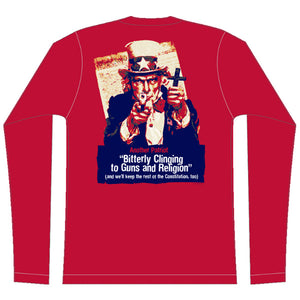 Barack Hussein Obama revealed his disdain for middle America's faith and values at a closed-door San Francisco fundraiser:

"You go into these small towns in Pennsylvania and, like a lot of small towns in the Midwest... it's not surprising they get bitter, they cling to guns or religion or antipathy to people who aren't like them or anti-immigrant sentiment or anti-trade sentiment as a way to explain their frustrations."

Our long sleeve T-shirt " Another Patriot Bitterly Clinging to Guns and Religion (and I'll keep the rest of the Constitution, too)" serves as a reminder that both religious freedom and the right to bear arms are fundamental American rights that Democrats want to change.

T-shirt color is red, and design is featured on the back only.

Also see the bumper sticker. https://patriotpostshop.com/products/872
IMPORTANT NOTE ABOUT T-SHIRT SIZING: Shirt is made from 100% combed cotton and is an athletic fit. Based on the fit and possibility of shrinkage, if you prefer a looser fit, please order a size UP.