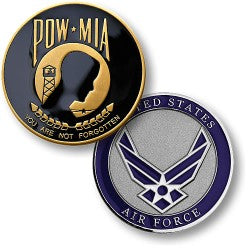 This coin is dedicated to the uncompromising vigilance and tireless dedication of all those who keep watch for America's unsung heroes. The obverse features a rendering of the POW-MIA emblem, which contains a silhouetted soldier with his head slightly bowed standing in the shadow of a guard tower. The reverse bears the Air Force Wings.

Minted in a brass alloy, the obverse is hand-enameled in black, bringing the image of the soldier into bold relief. The reverse contains a full color rendering of the U.S. Air Force Wings.

Measures 1-3/4 inch (44mm) round.