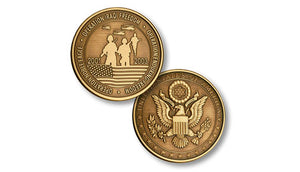 Determined to avenge the brutal terrorist attacks that claimed the lives of 3,000 innocent Americans on September 11, 2001, the United States has vowed to fight until the global war on terrorism is won.

Launching Operation Noble Eagle and Operation Enduring Freedom in 2001, and Operation Iraqi Freedom in 2003, the U.S. Military quickly mobilized to secure the nation's homeland defense and engage the world's most dangerous and deceptive terrorist forces.

Vigilantly safeguarding America's shores and vigorously defending the cause of liberty in Afghanistan and Iraq, the brave men and women of the U.S. Military have dutifully heeded the call to arms, risking their lives each and every day to ensure the safety of all Americans.

This coin is dedicated to America's military heroes, whose courage and skill have led to the success of Operation Noble Eagle, Operation Enduring Freedom, and Operation Iraqi Freedom. Depicted above an American Flag design on the coin's obverse are three soldiers advancing in pursuit of the enemy. The reverse contains the Great Seal of the United States, an enduring symbol of America's commitment to preserving freedom throughout the world.

Minted in a brass alloy with an antique bronze finish.