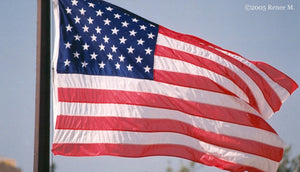 These high quality flags are made in the USA! They are made of tough polyester -- the strongest, longest lasting material developed for maximum durability. Polyester outlasts nylon and is excellent for all weather conditions. Each flag has individually embroidered stars, sewn stripes and brass grommets. Its open weave construction reduces wind resistance, therefore lessening abrasion and increasing flag life and retaining beauty.

Flag measures 3' x 5'.

A PatriotShop.US exclusive: A return mailer for your old flag is included with every U.S. flag purchase! Use the mailer to send the flag to us, and we will make sure it is properly disposed of. Please note that the buyer is responsible for all returned flag shipping costs. Only flags returned in PatriotShop.US packaging will be accepted for disposal.