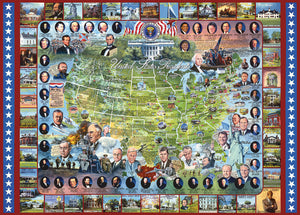 This United States Presidents jigsaw puzzle vividly illustrates the USA's 45 Presidents. Since 1789, when George Washington was sworn in as our first president, Americans have elected presidents to office for over 200 years. Featured cameos of each president along with historical sites related to the presidents around the border make this a great learning tool that provides for challenging fun.
1000 piece jigsaw puzzle
Finished size 24" X 30".
Limited to 1 per customer.