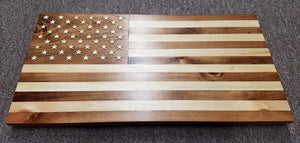 The Woodgrain American handmade flag is a clean look that will look great displayed in an office, garage, workshop, family room, or anywhere you want to show your American pride. This flag has alternating stained/natural stripes and is finished with a clear semi-gloss finish. Flags come with hardware ready to be hung on the wall!
Created by Andrew Smith, a former US Army paratrooper from the 82nd Airborne Division who was severely wounded in Afghanistan, losing both legs as well as receiving multiple internal injuries, these beautiful handcrafted wooden flags are available now in very limited quantities at The Patriot Post Shop.
With his amazing wife by his side the entire time, Andrew spent 22 months recovering at Walter Reed National Military Medical Center. During his recovery, he decided to live life to the fullest and not let his injury hold him back. One of his goals was to return home and pursue his passion for woodworking. Now back home in the great state of Tennessee with his wife and son, he is doing just that. Riser Burn Woodcrafts was born out of that passion. The Patriot Post Shop is proud to offer his fine handmade wooden flags to you. Available in very limited quantities.
Flag measures 1" x 13" x 24.75".
100% of the sales proceeds for each flag will support the Honoring the Sacrifice foundation.