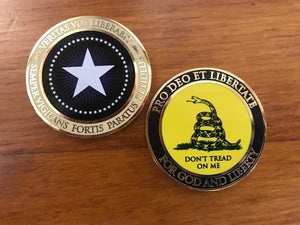 Our handsome enamel Patriot Post challenge coin features The Patriot Post Bonnie Blue logo on the face, including our mottos, Veritas Vos Liberabit -- The truth will make you free. (The origin is John 8:31-32, Jesus speaking, "If you hold to my teaching, you are really my disciples. Then you will know the truth, and the truth will set you free.") and Semper Vigilans, Fortis, Paratus, et Fidelis — Always Vigilant, Brave, Prepared and Faithful.
The obverse features the vivid Gadsden Don't Tread on Me flag emblem encircled in black with Pro Deo et Libertate -- For God and Liberty.
Made in the USA. 1.75"