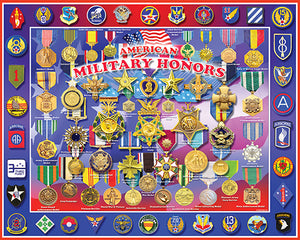 Military Honors
1000 Piece Jigsaw Puzzle
Filled with medals and badges, this vibrantly decorated puzzle is designed in the color scheme of red, white, and blue. A thick border highlights the badges, and the center frame hosts all the different medals that so many of our veterans and active military have earned. From purple hearts to silver stars to the Medal of Honor, this puzzle is a great one to hang on the wall alongside other service memorabilia.
This is 100% MADE IN THE USA and crafted on premium quality blue chipboard. The finished size is 24" x 30".
One per customer.