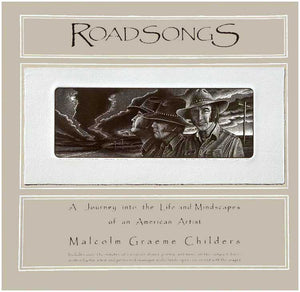 In the mid sixties, Malcolm Graeme Childers began to explore the symbiotic relationships between the visual and the language arts. At community art shows, he would recite his early poetic texts to give viewers a deeper sense of his images. Their positive reaction and his interest in verbal expression eventually led him to create diverse scripts for all thirty images in a series of relief etchings he created between 1973 and 1992. The concurrent texts for these newer images went well beyond the scope of his earlier recitations. In order to realize the full potential of these new literary pieces, he decided to learn the necessary technology to create an art book that would engage his audience in a greatly expanded multi-sensory experience. ROADSONGS: A Journey into the Life and Mindscapes of an American Artist is the actualization of that dream.
Of interest to collectors, this premiere edition (hand-signed and numbered by the artist as an intrinsic conceptual art vehicle), is limited to 3,000 examples. It is printed on #115 neutral Ph Appleton Utopia text, one of the world's finest coated substrates. The textblock is protected by neutral Ph endsheets. The art images are rendered in state-of-the-art FM Stochastic printing capable of the highest possible resolution so the book's reproduction is the next best thing to seeing the actual etchings. Designed and birthed by an artist who has spent his life blending concept and craftsmanship, ROADSONGS offers an aesthetic experience of incomparable power and grace. Quite simply, there has never been another book like this one.
ROADSONGS is both a "one-man-retrospective show" that you can hold in your hands and a captivating journey of the imagination. The voice of the artist on the two audio CDs as narrator and character actor moving through the sounds you would hear if you were actually standing in the images, coupled with his musical compositions, animates a compelling sensory journey for 25 of the 30 etchings.
The Real Earth/ Wind River, Inc. is proud to introduce this sound-informed book that succinctly embodies the spirit and creative genius of Malcolm Graeme Childers during the last third of the twentieth century.
ROADSONGS: A Journey into the Life and Mindscapes of an American Artist, is 11 7/8" tall, 11 3/8" wide, and has 168 pages. It comes with two compact discs, with 2 hours and 26 minutes of stereo drama, poetry, narration, diverse musical segues, soliloquies and soundscapes.