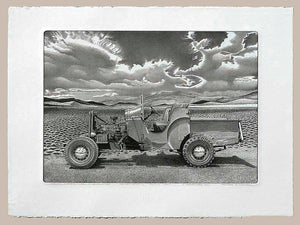 Free shipping and insurance. With the purchase of each etching is included the extraordinary bonus of a copy of Childers book, [Roadsongs](https://patriotpostshop.com/products/1824), a $160 value. Both etching and book are numbered and signed by the artist.

Frenchy's Flathead Flyer on the Right Day
Malcolm Childers

"The labor-worn mechanic's grin was full of stained and crooked teeth. He looked west, out over the rows of rusted and junked cars, and then farther to the blue and tan patchwork of the distant mountain flanks. Mirth tweaked the corners of his eyes." Image size: 16 1/8" X 22 1/4" Edition of 260 impressions plus 40 proofs, hand-pulled by the artist, on 22" X 30" Arjomari paper stock (210 numbered impressions on Arches Cover, 20 numbered impressions on Arches Buff and 30 numbered impressions on BFK Rives). Curation completed, December 1991. Plate canceled, January 1995. Expedited shipping not available for this product.