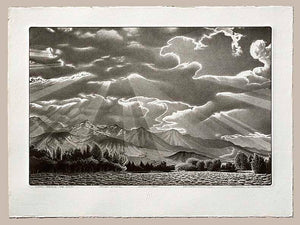 Free shipping and insurance. With the purchase of each etching is included the extraordinary bonus of a copy of Childers book, [Roadsongs](https://patriotpostshop.com/products/1824), a $160 value. Both etching and book are numbered and signed by the artist.

Sierra Before the Storm
Malcolm Childers

"I wanted to live in the rain shadow of heavy east-bound Pacific squalls, scraped by the jagged teeth of unnamed peaks. Resting here on the fringe of cottonwoods, you can see the late afternoon storm clouds spill over the spine of this world, hear the thump and rattle of distant thunder, while the smell of wet sage hangs on the wind." Image size: 16 3/4" X 25 3/8" Final Edition of 260 impressions plus 40 proofs, hand-pulled by the artist on 22" X 30" Arjomari paper stock (240 numbered impressions on Arches Cover and 20 numbered impressions on Arches Buff). A first-state experimental edition of the mirror view of this image was pulled and then discontinued after 32 impressions on BFK Rives. They were curated in July 1985, and the test plate was canceled in January 1995. Final state curation completed in February 1991. Plate canceled, July 1988. Expedited shipping not available for this product.