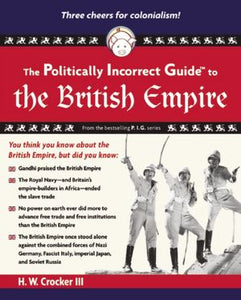 The Politically Incorrect Guide™ to the British Empire
by H.W. Crocker, III
Paperback - 384 pages (October 2011)
What Would Churchill Do?
The world is going to hell in a hand basket. But never fear—the example of the British Empire is here, putting down savage rebellions, taming jihadist Muslims, sailing the seven seas, and instilling the ideals of limited government and freedom around the world.
In his latest P.I.G., The Politically Incorrect Guide to the British Empire, bestselling author H. W. Crocker III describes—in brawling, rambunctious style—how the British Empire was the greatest establisher and defender of freedom in history.
In The Politically Incorrect Guide™ to the British Empire, Crocker reveals:
-Far from being anti-imperialists, America's colonists were more British than the British
-How Gandhi praised the British Empire for what it had done for India
-How the British Empire handled today's troubled hot-spots—like Africa,
Afghanistan, Iraq, Iran, and Pakistan
-What the world would be like if the British Empire were still governing a quarter of the globe—hint: everyone would be a lot better off
-Profiles of some of the most colorful and eccentric British imperialists
So strap on your pith helmet and get ready for a rollicking and provocative ride as The Politically Incorrect Guide™ to the British Empire takes you through four hundred years of history that will delight and amuse, educate and entertain.