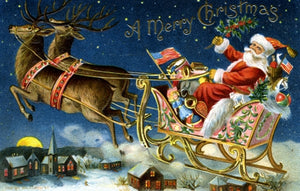 Dimensions: 12.75"x8.75"
Size: Small
205 pieces
Most people think of jigsaw puzzles as the die-cut, cardboard puzzles that are readily available in the market today. Before the advent of cardboard puzzles, almost all jigsaw puzzles were made of real wood and cut by hand. The United States has seen two prolonged jigsaw puzzle crazes, one in the early 1900s, and the next in the late 1920s and early 30s during the Great Depression.
Jigsaw puzzle collectors prize old wooden jigsaw puzzles for their intricacy, craftsmanship, and the "heft" of the pieces. For the serious jigsaw puzzler, there is nothing quite as satisfying as plunking a wooden piece into place. Patriotic Sleigh is an amazing heirloom quality classic wooden jigsaw puzzle, made from maple wood and the finest archival paper and inks. No two pieces in the puzzle are alike, and each puzzle features dozens of intricate, charming whimsy pieces. This puzzle is modeled after some of the most intricate jigsaw puzzles ever made and is proudly made in the USA.
During the creation process, each puzzle image is mounted on the wood, then laser-cut to the specific puzzle design. The puzzles are then carefully disassembled by hand and boxed for shipping.
Traditionally, jigsaw puzzles came without a picture of the puzzle image on the box. Most simply had a title to tease the puzzler about what the image could possibly be. The image then unfolded as the puzzle was put together, creating greater satisfaction with the finished challenge. In the spirit of old jigsaw puzzles, we encourage you not to look at the box image when assembling this puzzle!
If properly cared for, your puzzle will last for many years. Please use common sense. Keep your puzzle dry. Be careful when disassembling the pieces. The whimsy pieces are intricate and can be fragile. If you break a piece, a bit of Elmer's paper glue or any kind of wood glue should do the trick. Any "smoke" smell from the manufacturing process should dissipate quickly once the box is opened and the pieces air out.
We think you will love with the challenge of this puzzle, the intricacy of the pieces, and the overall quality, just as we do. Perfect for that special gift for yourself or someone else, this puzzle is a winner for family vacations, holidays, or just a quiet night with friends and family.