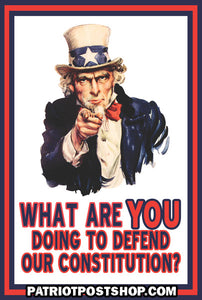 Uncle Sam has a question for you and for Patriots of all ages and persuasions. What are YOU doing to defend our Constitution? It's a timely and powerful question to pose and take action upon in light of the repeated violations of the Constitution occurring throughout the land.
Buy this sticker; post this sticker; share this sticker now.
Made exclusively for The Patriot Post Shop, in the United States, of highest quality vinyl, the sticker measures 6" x 4".