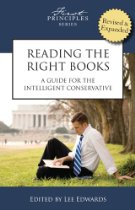 Reading the Right Books, A Guide fo the Intelligent Conservative
The Heritage Foundation First Principles Series
Softcover, 163 pages

Books contain the ideas, make the arguments, and preserve the history necessary for the maintenance and perpetuation of liberty. Reading the Right Books is a practical list of thoughtful and accessible books — not the "classics" but solidly good books — recommended to provide a general framework around which the reader can build a firmer structure of political knowledge.

Edited and annotated by Lee Edwards, the Distinguished Fellow in Conservative Thought at The Heritage Foundation, Reading the Right Books is a guide for intelligent, conservative-minded readers who want to prepare themselves for a public life of thought and action, and so seek to know more about politics, public policy and modern conservative thought, as well as literature, economics, religion, history, and statesmanship.