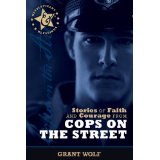 Stories of Faith and Courage From Cops on the Street
softcover, 400 pages

Stories of Faith and Courage From Cops on the Street is a 365-day devotional book in the Battlefields and Blessings series. Stories—one for each day of the year—come from members of the law enforcement community who have sensed God's presence in some event relating to their work. The contributors represent every phase of law enforcement work and demonstrate that something happened relating in their particular stories that simply cannot be attributed to anything other than God's hand.

In addition to being an ordained minister and accomplished organist and pianist, Chaplain Carmen Grant Wolf is an experienced writer and editor with many years of service in the law enforcement community, seventeen as Executive Director of The Fellowship of Christian Peace Officers-USA (FCPO). Grant and his wife, Ruth, have two grown children and four grandchildren and live in Chattanooga, Tennessee, where Grant continues to serve as chaplain for the Chattanooga Police Department.