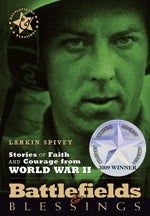 Battlefields and Blessings: Stories of Faith and Courage from WWII
Larkin Spivey
Paperback, 400 pages

Battlefields & Blessings: Stories of Faith & Courage from World War II's first purpose is to strengthen the faith of its readers by showing the power of others' faith under the most extreme circumstances imaginable. This is accomplished through 365 one-page stories from America's greatest conflict presented in a daily devotional format with relevant scripture readings for each day of the year.

Additionally, the book presents a unique and concise history of World War II with summaries, maps, and photographs of the major campaigns of the war. On this level, the individual stories provide insights into the war and combat not found in typical historical accounts.