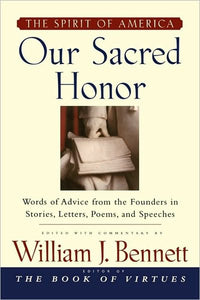 Our Sacred Honor
"The Stories, Letters, Songs, Poems, Speeches, and Hymns that Gave Birth to Our Nation"

William J. Bennett
432 pages, softcover

Millions of American families have turned to The Book of Virtues and The Moral Compass by William J. Bennett for moral guidance in troubled times. Our Sacred Honor offers inspiration and instruction as well -- this time of a particularly American sort.

In Our Sacred Honor, Bennett has collected the best that has been thought and said by and about the men and women who founded America. The stories, songs, letters and speeches collected in Our Sacred Honor are an inspiring celebration of American exceptionalism.