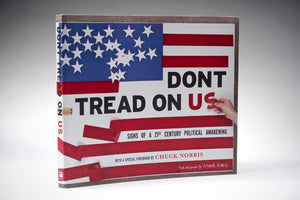 Don't Tread on US
Signs of a 21st Century Political Awakening
Mark Karis
Foreword by Chuck Norris
Softcover, 192 pages

They come from the fields, and towns, and cities. They come to the power centers, exactly like their ancestors two centuries ago. When American intuition tells the citizens that government by the people and for the people is being threatened.... they come to make their voices heard.

In this tribute to that spirit of America, Don't Tread on US! offers a pictorial record of the new tea parties and their participants: classic signs that communicate most effectively with our brethren all across the land who oppose what's going on in Washington today. With radical government agenda being marched across open territory, those citizens- tens of millions of them- are rallying, and will make their voices heard. The colonial heart still beats today, and the people have spoken: DON'T TREAD ON US!

Don't Tread on US! is a collection of the best images from tea parties: the angry voters who craft homemade signs for display. Between the covers of this instant classic is a sweeping pictorial record of America at her finest - standing for the same principles our forefathers stood for and were willing to fight for.