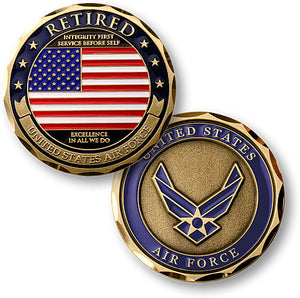 Air Force Retired coin
Exhibiting the courage and technical skill that have made the U.S. Air Force the world's most dominant aerospace force, retired Air Force personnel are members of an elite class of warriors.
Through their exceptional valor, devotion to duty, and long-standing commitment to excellence, these men and women have strengthened the nation's defenses and helped advance America's global military and strategic objectives. Their outstanding achievements reflect the proud tradition and heritage of the U.S. Air Force over the past 60 years. Serving honorably and with great skill in times of peace and war, these brave individuals have been a driving force behind the success of U.S. Military operations throughout the world.
This coin is dedicated to all retired Air Force personnel, whose skillful service has ensured America's aerospace dominance and bolstered the nation's security. The obverse features the American flag framed by the words of the Air Force motto. The word "Retired" is imprinted in bold on the upper rim against a blue enamel backdrop. The reverse features the Army Air Corps symbol, the symbol adopted and used by the U.S. Air Force after it became an official branch of the U.S. Military in 1947.
Stuck in a brass alloy and imbued on both sides with radiant enamel color, this coin comes packaged with a detailed header card that describes the devotion to duty demonstrated by all retired Air Force personnel.