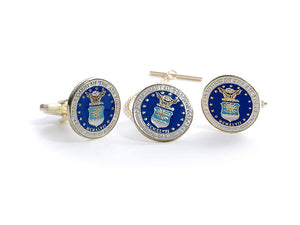 Originally founded in 1914 as the aviation division of the Army Signal Corps, the modern U.S. Air Force was founded in 1947.

By expanding the frontiers of aerospace technology, the men and women who serve this elite force have greatly enhanced America's capacity to engage and defeat its enemies throughout the world.

This specially designed set contains a single brass tie tack, imbued with full color enamel, accompanied by a pair of matching brass cufflinks. All three pieces feature a detailed rendering of the Air Force crest and shield, which includes the heraldic lightning bolt and Bald Eagle, both symbols of America's air striking power.

Encased in a plush-lined, leatherette presentation box, this attractive set makes an ideal gift for all active-duty and retired Air Force personnel. Whether worn or displayed, these eye-catching items are sure to grab attention, serving as a source of pride for the owner for years to come.