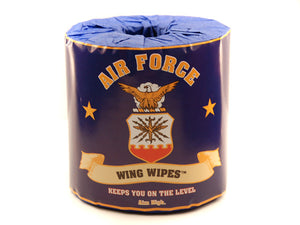 Air Force Wing Wipes- Keeps You on the Level- Aim High.

Buy a little fun for your favorite member of the Air Force with this roll of Air Force Wing Wipes! This roll of toilet paper complete with a decorative cover makes a fun and light-hearted gift which can be useful too! The blue wrapper, which features the Air Force seal and a "Facts Brief "with historical information about the Air Force, is sure to give some chuckles to the lucky recipient and we'll bet he/she never had a roll of t.p. make them laugh before!

Available while supplies last.