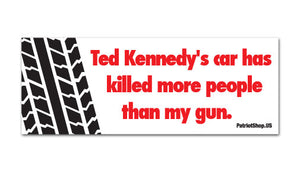 "Ted Kennedy's car has killed more people than my gun."

In 1969 Ted Kennedy drunkenly drove a young female campaign worker to her death. It was not until the following day, after calling his lawyer, concocting an alibi and developing a strategy to contain the political fallout that Kennedy contacted authorities to report the incident.

While Kennedy and other gun-confiscators on the Hill continue their quest to take away our constitutional rights, remind your fellow drivers that firearms aren't the problem.

Measures 8" x 3"