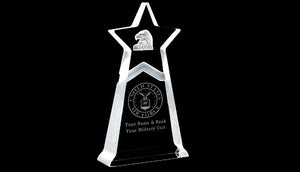 While supplies last. Our limited edition Eagle Tower award is the perfect way to recognize someone serving in our nation's armed services. Each award is made from optical crystal and is custom engraved with the Air Force seal and a soldier's name, rank and military unit.

7 1/2" high by 4 1/4" wide.

This item will be shipped separately from our other products. Please allow additional delivery time. You will be contacted through email by one of our staff to obtain name, rank and military unit information for engraving purposes.