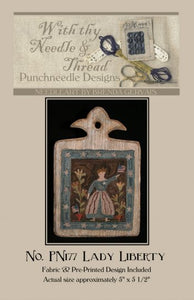 Lady Liberty needle art pattern

Punch needle embroidery is an old needle art dating back many centuries ago. It was used in its day to mark clothing. The technique was worked using hollow bones of birds' wings as needles in its early days. Punch needle pieces are generally quite small and are indeed works of art. The needle art can be learned easily and enjoyed by all ages!

Punch needle pattern includes instructions and weavers' cloth with the design pre-printed on the cloth. Floss and other supplies not included with pattern.

Very limited quantities available.