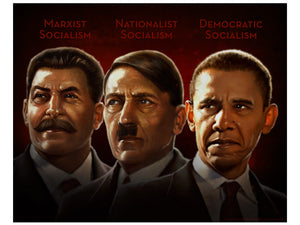 ALL SALES FINAL ON THIS ITEM.
Three variations on the same theme: Marxist Socialism, Nationalist Socialism, Democratic Socialism.

Neither Stalin nor Hitler began as murderers when they set out to displace liberty with tyranny. The terminus of the rule of men is always tyranny, and tyranny is always ugly.

This poster provides a dose of reality shock value for those who do not understand that the consequences of Socialism are tyranny, regardless what label it carries. Notably, neither Stalin nor Hitler were guilty of exterminating enemies of the state until years after each had ascended to political positions where they were able to consolidate the power of their respective Socialist states.

Printed on heavy duty 100 lb. gloss cover stock, use this poster at rallies, in dorm rooms, or anywhere you want to get your point across in full color.

Poster measures 16" x 20".