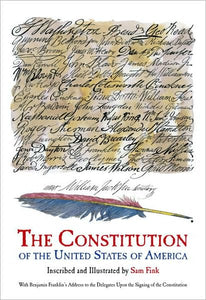 Hardcover, 136 pages

Every second fall, as we return again to the ballot box to decide the course of our country's leadership, every voter must find their way back to that room in Philadelphia in 1787 where fifty-five men sat in a sweltering room and fought for us by enshrining our God-given rights in the Constitution of the United States.

The Constitution of the United States of America, inscribed and illustrated by the master calligrapher, Sam Fink, brings to life this abiding document. Originally published in pen and ink for Random House in 1987, Mr. Fink has gone back to his original black-and-white art and painted it anew, created a full-color masterpiece. The result is glorious. Each amendment, each article, each word so thoughtfully placed in The Constitution has been given Mr. Fink's profound touch. With a powerful intelligence and a wonderful sense of humor, he has provided us with an entry point into this complex document, allowing us to read it with greater ease and understanding.

A full-color limited edition, 15" x 22", exquisitely designed and produced—matching in its manufacture the stunning quality of Mr. Fink's ambition and the gravitas of the original document.