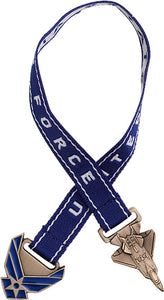 This die-struck Air Force bookmark salutes the courage and skill of Air Force veterans, whose courageous service ensures the success of America's military operations.

Defending America's strategic interests throughout the world, their bold actions and decisive leadership have strengthened the nation's security. Applying their unmatched technical expertise, they have expanded America's global reach and provided the U.S. Military with a distinct advantage over its enemies. Whether flying into hostile territory or providing vital combat support, these brave men and women have played a decisive role in protecting freedom around the world.

This item features two distinctive die-struck pieces attached to an Air Force blue ribbon, embossed with "United States Air Force Veteran" in gold lettering. Both pieces are made of brass and brushed with an antique finish.

One end of the ribbon features an Air Force Fighter emblem. The reverse includes a space for engraving. The detailed Hap Arnold wing design at the opposite end calls to mind the Air Force's proud tradition of excellence.