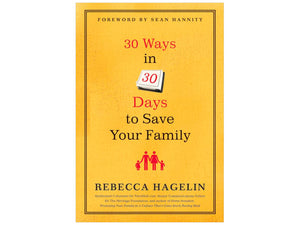 30 Ways in 30 Days to Save Your Family
by Rebecca Hagelin
Hardcover - 256 pages

As a parent or grandparent, you know the challenges of raising healthy, happy teenagers can seem overwhelming. Every time you turn around, pop culture—with its negative images, violent video games, and offensive music—derails your efforts and hard work. So how can busy moms and dads protect their children from today's toxic culture?

One step at a time.

In 30 Ways in 30 Days to Save Your Family, author Rebecca Hagelin lays out 30 simple and concrete actions that you can implement—one day at a time—to reconnect with your children and restore peace in your home.

As a mother of three, a syndicated columnist, and specialist on family, culture, and media issues, Rebecca understands the frustration parents feel.

She designed this book with working parents and busy families in mind. Moms and dads can read a chapter at soccer practice or while waiting in carpool and come away with practical solutions to common parenting problems that can easily be put to use.

Featuring a foreword by Sean Hannity, personal stories from Rebecca, as well as anecdotes from other parents, 30 Ways in 30 Days to Save Your Family offers common sense advice to help parents tackle everyday dilemmas, including:

* How to fight back against manipulative marketing campaigns that target your child, including what to say to your teen when you pass Victoria's Secret in the mall
* The three most important (and easy) things you can do to keep your child safe on online social networks
* How (and why) to write a love letter to your child—it may be the key to starting true communication
* How to fight the culture—not your child

Parent tested and teen approved, 30 Ways in 30 Days to Save Your Family will help you (and every hard-working parent you know) succeed in the most important job you have—raising happy, responsible, and well-adjusted kids.