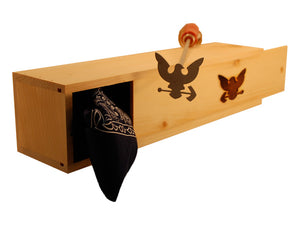 We love this American Eagle branding iron and we know you will too! Add some searing fun to your next BBQ! Perfect for steaks, chicken, burgers, buns, tortillas and more.

Made of quality stainless steel, the branding iron comes in a rugged storage box which displays the brand right on the box.

* 13" Long
* The head of the brand is roughly 2" wide and roughly 2" tall.
* Easily heated with gas / charcoal grill or propane torch.
* Cleans with soap and water.