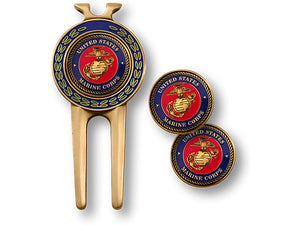 Founded in 1775, the U.S. Marine Corps has instilled fear in America's enemies for more than 200 years.

Employing one of the most grueling training regimens known to man, the Marine Corps is renowned for producing soldiers who exhibit the highest levels of physical strength and mental toughness. Over the years, the Marines have lived up to their hard-won reputation as the "First to Fight," serving on the front lines of some of the most intense battles in the history of modern warfare.

After you've hit your ball higher, farther, and faster than the others in your foursome, this divot tool will complete your mission. Mark your ball's position with the magnetic ball marker attached magnetically to the tool; then, after you've sunk your putt, use the divot tool to clean up your marks while your opponent tries to outshoot you.

This specially designed set contains a brass divot tool with three ball markers featuring a detailed rendering of the USMC globe and anchor insignia.