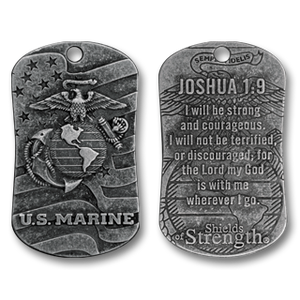 Gunner Gilbert Bolton, USMC (Ret) on supporting Operation Shield of Strength: "On behalf of the our School of Infantry Marines, thank you for the thousands of OpSoS dog tags donated by The Patriot Post and Shop to our Marines!"
Sturdy pewter, designed to endure the hardships of the field of battle, this U.S. Marine shield of strength features the Eagle, Globe and Anchor on the front and the words of Joshua 1:9 on the reverse.
"I will be strong and courageous. I will not be terrified, or discouraged for the Lord my God is with me wherever I go. "
Includes a chain and silencer.
100% of Sales Proceeds Support [OPSOS](https://patriotpost.us/opsos).