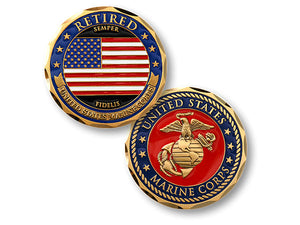 Embodying strength, courage, and a determined leadership, those who have retired from service in the U.S. Marine Corps are deserving of the highest honor.

Willing to risk their lives on the front lines for freedom's sake, they have faced grave risks with unshakable confidence and a deep desire for victory. Through their many years of service, these skilled leaders have inspired those in their command to reach beyond their limits to achieve absolute excellence. Members of a proud tradition, these bold and brave individuals join a distinguished class of American warriors who have defended our nation against every enemy.

This coin is dedicated to all retired Marine Corps personnel, whose noble sacrifice has strengthened America's security. The obverse features the American flag framed by the words of the Marine Corps motto: "Semper Fidelis." The word "Retired" is imprinted in bold against a blue enamel backdrop. The reverse bears the eagle, globe, and anchor emblem of the U.S. Marine Corps.

Struck in a brass alloy and accented with radiant enamel highlights, this coin comes packaged with a detailed header card that describes the contributions to freedom made by all retired Marine Corps personnel.