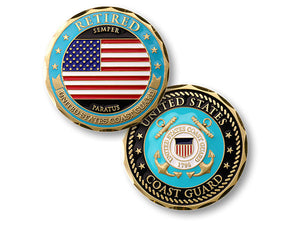 As proud members of America's elite coastal defense force, these men and women have willingly put their lives on the line for their fellow citizens, tackling tough challenges to get the job done. Motivated by a desire to serve their country, they have taken to the seas and skies in all kinds of weather, putting mission completion above their own safety and embodying the Coast Guard core values of honor, courage, and devotion to duty in everything they do.

This coin is dedicated to the brave commitment and selfless sacrifice of all retired Coast Guard personnel. The obverse features the American flag front and center framed by the words of the Coast Guard motto: "Semper Paratus" The word "Retired" is boldly imprinted on the upper rim against a backdrop of Coast Guard blue. The reverse bears the Coast Guard emblem.

Struck in a brass alloy and accented with bright enamel color on both sides, this coin comes packaged with a detailed header card that describes the long-standing devotion to duty demonstrated by all Coast Guard retired personnel.