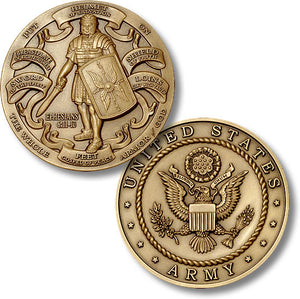 Bronze Armor of God, Army coin
The warriors of America's Armed Forces fight in the name of justice and freedom around the world, risking their lives to defend these principles whenever and wherever they come under attack.
This coin pays tribute to the brave men and women of America's military, who risk their lives every day to keep liberty's lamp burning brightly throughout the world. Minted with a special process and dies called splash minting, this coin carries detail and relief that is quite exceptional.
The obverse depicts traditional pieces of armor, including the breastplate of righteousness, shield of faith, sword of the Spirit, and helmet of salvation of Ephesians 6:10-17:
"Finally, my brethren, be strong in the Lord, and in the power of His might, put on the whole armor of God, that ye may be able to stand against the wiles of the Devil. For we wrestle not against flesh and blood, but against principalities, against powers, against the rulers of the darkness of this world, against spiritual wickedness in high places".
The reverse bears the United States Army seal.
Each coin measures 1.75".
AVAILABLE WHILE SUPPLIES LAS