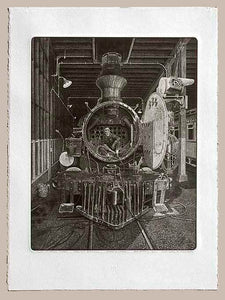 Free shipping and insurance. With the purchase of each etching is included the extraordinary bonus of a copy of Childers book, [Roadsongs](https://patriotpostshop.com/products/1824), a $160 value. Both etching and book are signed and numbered by the artist.

Talkin Durango Flues
Malcolm Childers "Well, I cunn see why yu'd want a pi'ture of the engine, but why in heaven's name would you want me in it?" Image size: 22 3/8" X 17 1/2" Edition of 250 impressions plus 40 proofs, hand-pulled by the artist, on 30" X 22" Arches Cover. Curation completed, April 1991. Plate canceled, January 1995. Expedited shipping not available for this product.