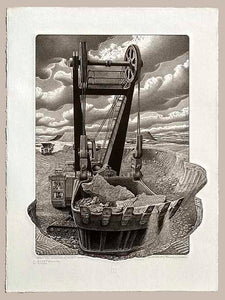 Free shipping and insurance. With the purchase of each etching is included the extraordinary bonus of a copy of Childers book, [Roadsongs](https://patriotpostshop.com/products/1824), a $160 value. Both etching and book are numbered and signed by the artist.

On the Cutting Edge of Temporary
Malcolm Childers "The photographer laughed and waved to the men in the cab as the shovel swung to dump its load in the truck. He changed his lens, then walked toward the rim of the main pit. Wind caught the dust into spins and eddies at his feet. His eyes followed the sound of truck horns down toward the trench's far wall. The horns went silent. An exposed third-level seam erupted into a fiery black cloud. Ripping thunder echoed in the pit as arching lumps of debris pelted back down onto the blackened floor. Dozers, trucks, and front-end loaders moved in to strip coal." Image size: 23 3/4" X 19" Edition of 259 impressions plus 40 proofs, hand-pulled by the artist, on 30" X 22" Arjomari paper stock (250 numbered impressions on Arches Cover, 10 numbered impressions on Arches Buff). Curation completed, March 1987. Plate canceled, March 1987. Expedited shipping not available for this product.