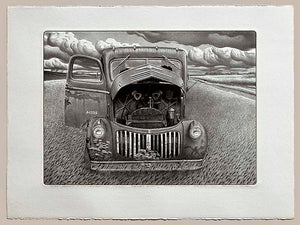 Free shipping and insurance. With the purchase of each etching is included the extraordinary bonus of a copy of Childers book, [Roadsongs](https://patriotpostshop.com/products/1824), a $160 value. Both etching and book are numbered and signed by the artist.

First Lessons in Conversational Truck
Malcolm Childers "Wonder what kind of life it had? Guess I oughta go over 'n check out the paint layers, see if the pedals are worn to the metal and the seat cushion down to the wire. Would it be logical to put a mind meld on it like Spock? Might raise its consciousness, Yeah hea ha ha, and probably lower mine. What-da-ya think it would say if it could talk?" Image size: 16" X 22" Edition of 260 impressions plus 35 proofs, hand-pulled by the artist on 22" X 30" Arjomari paper stock (240 numbered impressions on Arches Cover and 20 numbered impressions on Arches Buff). Curation completed, April 1991. Plate canceled, January 1995. Expedited shipping not available for this product.