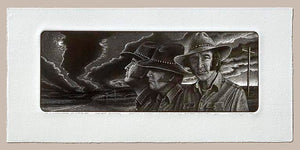 Free shipping and insurance. With the purchase of each etching is included the extraordinary bonus of a copy of Childers book, [Roadsongs](https://patriotpostshop.com/products/1824), a $160 value. Both etching and book are numbered and signed by the artist.

At a Crossroads on State 38
Malcolm Childers "Odds are, you could find yourself, here in this passage between moonlight and dawn. Seeing change move through the backwater eddies and the mainstream flows of the world around you. Thinking about things that have already been and might yet be. Being intimate with each moment and in that labor of love, you will grow through the fleeting moments you have left to become, richly alive. There is a place where streets meet, highways." Image size: 6" X 16 3/4" Edition of 260 impressions plus 40 proofs, hand-pulled by the artist on 13" X 20" Arches Cover. Curation completed in September 1991. Plate canceled, January 1995. Expedited shipping not available for this product.