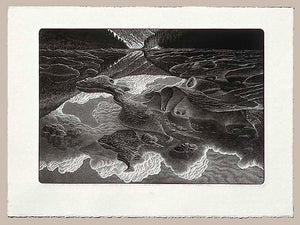 Free shipping and insurance. With the purchase of each etching is included the extraordinary bonus of a copy of Childers book, [Roadsongs](https://patriotpostshop.com/products/1824), a $160 value. Both etching and book are numbered and signed by the artist.

For the Ocoee and Other Sylvan Dreams Malcolm Childers

"Hard to share this share. Hard to pass on beyond the borders of this frail envelope these richest of riches. Our habits constantly impose limits on our grasp of reality. We all choose how wide we want to open our eyes. Only a few steps out on the rocks and already I begin to sense the glory, walking toward the main channel; that merging of sky and land, interfaced contradictions." Image size: 16 3/8" X 23 1/2" Edition of 250 impressions plus 45 proofs, hand-pulled by the artist, on 22" X 30" Arches Cover. Curation completed, December 1991. There were two unsuccessful plates made. All plates canceled, January 1995. Expedited shipping not available for this product.