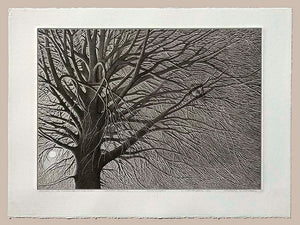 Free shipping and insurance. With the purchase of each etching is included the extraordinary bonus of a copy of Childers book, [Roadsongs](https://patriotpostshop.com/products/1824), a $160 value. Both etching and book are numbered and signed by the artist.

Sundown on the Darkside of the Moon
Malcolm Childers "The reel whirred in Jason's hands. As the children worked their way up to the top of the ridge, they watched their kite climb higher and higher, nodding and bobbing gracefully into the deep blue windy morning. Jason came to the end of the string and stood out proudly at the top of the hill, arms outstretched with the slender white line sweeping up into the blue until it disappeared. Still higher the small spot of kite hung transfixed." Image size: 17 3/8" X 23 3/4" Edition of 250 impressions plus 47 proofs, hand-pulled by the artist, on 22" X 30" Arches Cover. Curation completed, December 1991. Plate canceled, July 1988. Expedited shipping not available for this product.