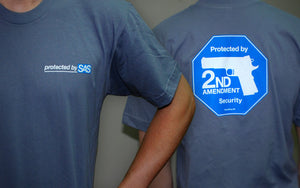 Our popular 2nd Amendment Security T-shirt in slate, with a sleek security logo on the front "pocket."

You won't have to worry about being assaulted by miscreants with this T-shirt on! (It helps to actually own a gun). Stand for your Second Amendment rights against those "Gun Free" folks who just don't get it.

IMPORTANT NOTE ABOUT T-SHIRT SIZING: Shirt is made from 100% combed cotton and is an athletic fit. Based on the fit and possibility of shrinkage, if you prefer a looser fit, please order a size UP.