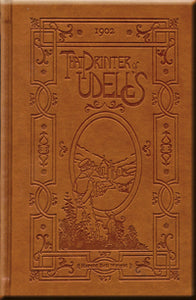 That Printer of Udell's
Harold Bell Wright
352 pages; written in 1902

This beautifully bound copy of That Printer of Udell's is now available at The Patriot Post Shop. This is an inspiring story with much to teach to our generation about living by an honor code.

Ronald Reagan, who read this book as a child, said the following about it, "That Printer of Udell's had an impact I shall always remember. After reading it and thinking about it for a few days, I went to my mother and told her I wanted to declare my faith and be baptized. ... and I was baptized several days after finishing the book. The term "role model" was not a familiar term in that time and place. But I realize I found a role model in that traveling printer whom Harold Bell Wright had brought to life. He set me on a course I've tried to follow even unto this day. I shall always be grateful."

Has someone crossed your path recently that might have needed your help? Were you paying attention closely enough to have noticed? This wonderful book from Harold Bell Wright is just as alive and relevant in this century as it was to those to whom he was writing over 100 years ago.