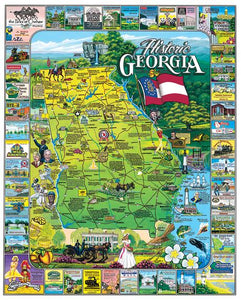 See Rock City! If you can't make it in person this year, the Rock City waterfall is at the very top of this puzzle, just like it is on top of Lookout Mountain, GA, overlooking Chattanooga, TN! Georgia, the 4th state of our great union is chock full of many amazing things to see and do!
In this 1000 piece jigsaw puzzle,  a wonderfully crafted and detailed map of Georgia is depicted. The state itself is in the center of the puzzle, decorated with must-visit landmarks and fun facts. The Georgian flag waves near the top right . This puzzle is the perfect activity for learning more and planning your next trip to  Georgia!
24 x 30 inches finished.
Made in the USA!
1 per customer