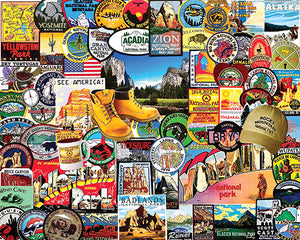 National Park Badges puzzle
1000 Piece
Explore the United States with this colorful puzzle. A collage of badges from national parks across the country, this puzzle is perfect for those who love travel and the outdoors. See what each national park has to offer and piece together this puzzle as you plan your next adventure from the rich fossil beds of The Badlands in South Dakota, to the tallest mountain on the east coast in Acadia National Park.
The finished size of this puzzle is 24"x30" .
Limited to 2 per customer at this time.