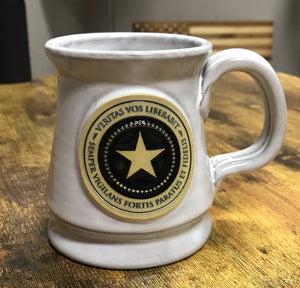 We are very proud to present our exclusive  new Gloss White Patriot Seal pottery mug which is hand-thrown and glazed by a family of artisans in Minnesota. This 12 oz. heirloom quality mug features our Patriot logo emblem on the front. With a handle big enough for man-sized hands, our pottery mug is tough enough for any zealous Patriot while still having all the beauty of a hand-made piece. Enjoy a cup of joe (not the plumber) in one or get several to give as gifts.
The inscription reads "Veritas vos Liberabit" which translates "The truth will set you free." from John 8:32 and "Semper Vigilans, Fortis, Paratus, et Fidelis" which translates " Always Vigilant, Brave, Prepared and Faithful."
These mugs are lead and cadmium free - proposition 65 compliant - safe for the dishwasher, oven, microwave, freezer, and very, very durable! Each mug stands 4" tall .